How do I edit a Link?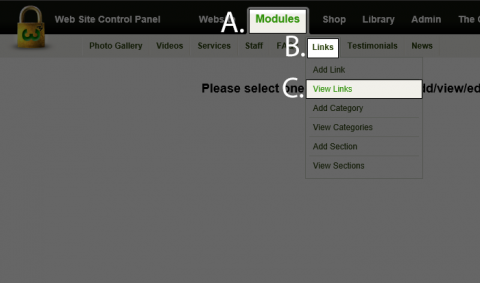 Click on the Image to Enlarge
Step 1
No HTML is needed in the Links as the system applies the style when it uses it in the site. To edit a Link Item:

A) In the Black Bar at the top of the screen click on the Modules link.

B) Roll over Links.

C) Click on View Links.

Click on the Image to Enlarge
Step 2
You will see a list with all of the Links that you have.

From the list, select the one you wish to edit.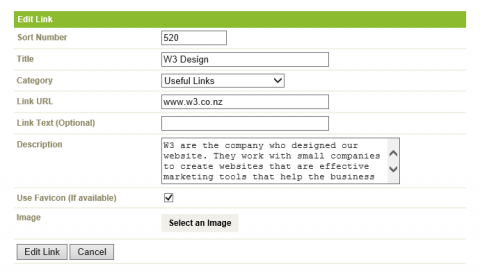 Click on the Image to Enlarge
Step 3
The Following fields are available to be modified:


Sort Number - The Order in which the Link appears within the Category.

Title - The Title of the Link, IE: If the Link is for a company that goes to another website, put the Company's name here.

Category - Place the Link into the appropriate Category.

Link URL - Enter in the Web address so people can click on it.

Link Text(Optional) - If you want the Web Address to have a name that people click on as opposed to just a standard link, place it here.

Description - Describe the Company with a sentence, brief description.

Use Favicon(If Available) - If the Company's Website has a Favicon (The icon at the top of the screen next to the current Tab) click this. Your website will use that if available.

Image - If you have an Image that you want to use IE: The Company's Logo, upload an image here. Please note that this will override the Favicon if Favicon is ticked.
Click here for more information regarding Favicons.

Click on the Image to Enlarge
Step 4
Once finished with the necessary changes, click on the Edit Link button.
Back...