How to Add Rural Delivery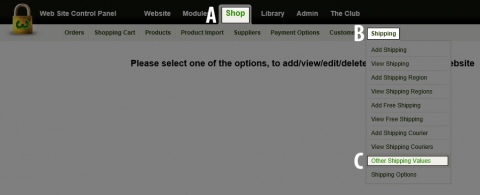 Click on the Image to Enlarge
Step 1
(A) Click on Shop in the Black bar.

(B) Rollover Shipping in the grey bar.

(C) Select Other Shipping Values from the dropdown menu.

Click on the Image to Enlarge
Step 2
The following fields are available to be used:

Rural Shipping Price - amend the amount here
Step 3
Click on the Set Options Button once you have made the changes.
Back...