How to add Free Shipping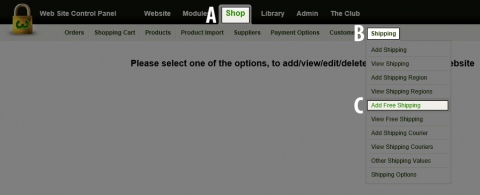 Click on the Image to Enlarge
Step 1
(A) Click on Shop in the Black bar.

(B) Rollover Shipping in the grey bar.

(C) Select Add Shipping from the dropdown menu.

Click on the Image to Enlarge
Step 2
The following fields are available to be used

Free Shipping Over... - enter an amount

To Region..(Optional) - enter a region here if you want to apply to a specific region
Step 3
Once done modifying the Free Shipping, please click on the Add button below.
Back...